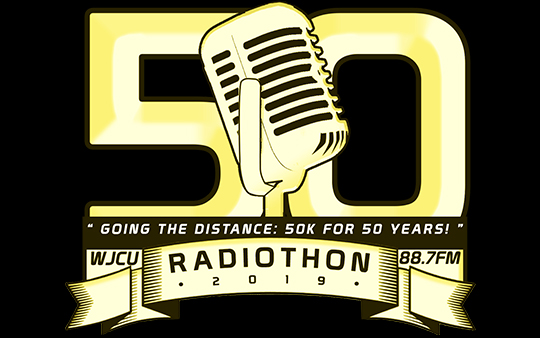 Over the last 50 years, WJCU has provided Northeast Ohio with diverse, commercial free radio and this year during our annual Radiothon, we're asking that you help us Go the Distance in raising $50K in honor of our 50 years of operation. By pledging your support to our cause between Feb. 8th and Feb. 17, YOU can help us keep operations running for the next half century!
To donate, you can give us a call at 216-397-4438 and one of our live in-studio hosts will fill out the donation form for you, or you can do it yourself at our secure online donation form.
Remember that for CALL-IN ONLY donations, there are a number of WJCU branded premiums available depending on how much you're pledging. Here is this year's full list of premiums:
$25: Car Magnet or Bottle Opener Keychain
$40: $10 Merchant of the Day Gift Card (The Heights)
$40: DJ Special (Genre Show)
$60: 2018 Radiothon T-shirt
$80: WJCU Beanie
$100: Guest DJ
Our Merchant of the day premium returns this year, with a new classic Cleveland eatery joining the fold! Swensons, has joined us during Radiothon to serve as our Thursday Merchant of the Day. This year's full list of merchants includes: Music Box Supper Club (Monday), Pizzazz on the Circle (Tuesday), Ben and Jerry's (Wednesday), Swensons (Thursday) and Melt (Friday). To receive a $10 gift card to one of these local eateries all you have to do is call in and make a pledge of $40 during The Heights on that merchant's assigned day.
Thank you to all five restaurants for their support during Radiothon 2019!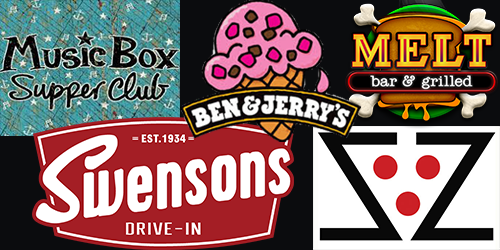 If you're someone who is new to, or unfamiliar with Radiothon head here for some Radiothon 101 to help get you up to speed on what it is.
Last but not least, THANK YOU in advance for your support during Radiothon 2019!